News
Update United Development - December 2015
Referring to our latest update in which we explained that United Development is continuing on a smaller scale, we are planning a visit to Ghana in 2016.
Through our contacts in Sunyani, of which the village of Yawsae is a part, the school, teachers and pupils are doing well.
We are looking forward to visit the Chief, the teachers and pupils and hope to be able to talk with them and listen to their stories.
We will keep you informed on our progress of the upcoming field visit in 2016 for which a suitable date will be determined in Q1 2016.
We thank you for your support and interest in United Development.
2012-2013 United Development continues on a smaller scale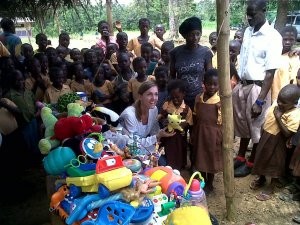 Since 2002 a lot has been accomplished for the inhabitants of Yawsae and the generations to come.
Emmanuel Tettey Quarschie our local project manager worked hard to make sure the projects went smooth. He did this with whole his heart for nearly 10 years.
We hereby thank him for his tremendous effort and the sacrifices he made. He was a very important link in de project planning.
His activities will now be done by a local contractor which we have known for 5 years. As of May 2012 we established an agreement.
2013 United Development continues on a smaller scale
After 10 years, Yawsae is ready to move on in a more independent way.
It has the following facilities in place, which have been accomplished over the last 10 years:
-medical post
-church
-kindergarten
-playground and educational wall paintings
-primary school
-junior high school
-multifunctional room
-latrines
-maintenance on buildings and educational materials
-school uniforms
United Development continues on a smaller scale.
Robert and Christel van der Borden keep supporting Yawsae and its schools on a much smaller scale without large fundraising events and with a local contractor.
News May 2012
After 10 years of support, we have decided in May 2012 to slowly and partially withdraw from Yawsae.
As you can see at the Results we have accomplished so much for Yawsae and all the basics that were required are in place. It's time to let go a little bit.
Robert and Christel will keep supporting the village on a much smaller and personal scale, without large fundraising events and sponsors.
Newsletter number 8 has been distributed on 31 January 2012. This newsletter reports an update of the contruction of 20 larines and the planning for 2012.
Newsletter number 7 has been distributed on 30 August 2011. This newsletter reports an update of our executed activities since our visit of November 2010. This issue reports about a renovated well, the contruction of a library/multi-purpose building and latrines.
Our visit to Ghana in November 2010 was, again, a very fruitful and well organised visit.
Also thanks to Ayikoo Tours, owned by Melvin and Rebecca. Our driver Albert was amazing, and drove us safely from Accra to Sunyani.
After consulting the chief, teachers and Mr. Ananse the headmaster, they had a request to build a library/multifunctional room.
This room will be attached to the already existing 6 classroom schoolblock.
Construction is in full swing, as we speak! We will post some pictures of the construction on the website very soon. The next newsletter will be sent to you shortly.
Newsletter number 6 has been issued on 29 June 2010. This newsletter reports an update and information about cupboards for the classrooms and projects for 2010.
Happy New Year!
United Development wishes all their donors a sparkling 2010!
We like to take the opportunity to thank all donors for their trust.
Thanks to your support we have, again, achieved a lot.
visit Ghana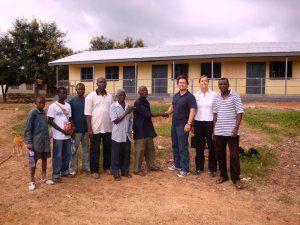 Early September 2009 Robert van der Borden and Christel Schillemans - van der Borden to Yawsae to visit the newly build classrooms.
Local project manager Emmanuel Tettey Quarshie has coordinated the construction together with the headmaster Nana Kwaku Ananse and realised the construction in a very short time frame.
Pictures of the progress can be viewed via pictures building.
On the picture Emmanuel (right side) and the headmaster (4th from left side) as well as the chief of Yawsae and his brother in the middle are present.
The new classrooms are being used since half September at the start of the new school year. The official opening is planned for October. For the new classrooms dual schooldesks and cupboards are currently needed. At this moment funds are being raised.